Toxic EMF

Have a look at the above chart. Is your (U.S., Australian, or Canadian) government really looking out for your safety as regards the "outdoor pulsed RF radiation limits?" Note that we are 10x higher than India and Israel, who are 10x higher than China, Russia, Italy, etc. What does this tell you about how we as a country regard the health and safety of our own citizens?
SOME COUNTRIES RECOGNIZE THE RISK
"Unlike the U.S., several countries have developed a deep concern regarding the risk that EMF exposure poses to children and have implemented laws to address it. In late 2018, France imposed a cellphone ban in schools for students in first through ninth grades. Those students are not permitted to use their phones even during breaks, lunchtime, or between classes. Russia has also implemented laws to minimize Wi-Fi exposure in schools and Switzerland, Italy Austria, Luxembourg, Bulgaria, Poland, Hungary, Israel, and China have set radio frequency exposure limits that are up to 10,000 times lower than in the U.S.  The evidence makes it abundantly clear that EMF exposure is a significant health hazard for today's youth. Schools need to take a step back and begin to implement strategies to protect students while in the classroom, such as eliminating Wi-Fi and converting to wired connections….."
EMF*D – 5G, Wi-Fi & Cell Phones: Hidden Harms and How to Protect Yourself – pg 118, Copyright 2020, Dr. Joseph Mercola
Buyer Beware
If anyone, especially a government or corporate-employed expert with "Dr." in front of their name, or even a member of your local city council with a background of working in the wireless communications industry, particularly with smart meter technology (we might add) tells you they "own the science," that "the science is settled," or "they have read all studies and the FCC says that all wireless equipment is within allowed FCC radio frequency guidelines, and therefore safe," they are either ignorant and not paying attention, have been misinformed themselves, have refused to consider studies carried out by independent researchers where the outcomes generally differ from those performed by their respective industry, have some kind of vested interest, are arrogant and trying to belittle you to get their way, or they know exactly what is going on and are trying to pull the wool over your eyes with misinformation and outright lies. These so-called scientists and "experts" are willing to sell out their profession by providing their "masters" with the scientific research results their masters want to hear, and which benefit their interests. So, when someone tells you they own the science, what it really means is that the science they are talking about has simply been purchased!
Captured Entities
While all the above is going on, independent scientists whose research has come up with differing results are attacked, discredited, and shut down by industry-captured government regulators and the media, whose revenue largely depends on advertising paid for by said industries. Along with unprecedented numbers of lobbyists in government, and abundant money poured into political advertising to get their man (or woman) elected, is it not surprising that we the public are being convinced, and even brainwashed into believing many of the products and technologies we use cause little to no harm to us, and are perfectly safe, while they, the large corporations, haul in ever-increasing profits?
You may remember the tobacco industry got away with this kind of thing for years, as well as the oil and gas industry, the pharmaceutical industry (you may remember a recent pandemic), and in regards to our own particular cause, the telecommunications industry and our energy providers.
Big Tobacco, Big Oil and Gas, Big Asbestos, Big Chemical, Big Pharma, and now…..Big Telecom. Where does it all end, the corruption, the revolving door of government-to-industry, and vice versa job placements, the failing health of the public, the decline in fertility, and the loss of confidence in government by the public? Surely not with the public's health being uppermost in anyone's mind.
What The Industry Claims
You may have heard the argument the telecommunications industry (and its followers) make, that non-ionizing radiation (which is what we are talking about here), the type of radiation that "does not have enough energy to remove electrons from atoms and molecules" vs. ionizing radiation such as that found in x-rays, does not cause any heating in biological tissue, and, therefore, does not cause any harm. (We beg to differ!) They will also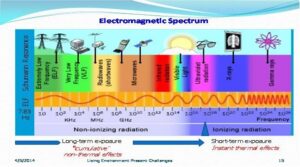 claim that the levels of radiation from cellphones, smart meters, Wi-Fi, etc. are too small to cause any biological effect, and that we are living in a sea of cosmic radiation anyway, as well as being surrounded by the earth's own magnetic field.  However, we would like to point out the warning that comes with each cellphone sold, which states that the phone should be held a certain distance from the head when in use. We would also like to mention that all life on earth evolved within the above-mentioned sea of natural electromagnetic radiation, and, therefore, in normal and non-extreme circumstances it does not harm us and, in fact, is widely known to be beneficial.
Both top and bottom graphics of the electromagnetic spectrum were taken from the CDC website, and give some visual clarity to what we are speaking of here….when speaking on this topic, it is good to become acquainted with the electromagnetic spectrum as it is a critical point of reference when speaking about electromagnetic fields.
* * * * * * * *
From the CDC website:  Non-ionizing radiation exists all around us from many sources. It is to the left of ionizing radiation on the electromagnetic spectrum in the figure below.
Examples include:
Radiofrequency (RF) radiation used in many broadcast and communications applications
Microwaves used in the home kitchen
Infrared radiation used in heat lamps
Ultraviolet (UV) radiation from the sun and tanning beds
The dividing line between ionizing and non-ionizing radiation occurs in the ultraviolet part of the electromagnetic spectrum [shown in the illustration of the electromagnetic spectrum above]. Radiation in the ultraviolet band and at lower energies (to the left of ultraviolet) is called non-ionizing radiation, while at the higher energies to the right of the ultraviolet band is called ionizing radiation.
* * * * * * * *
Having left the CDC site behind….our comments:
Man-made (or "non-native") electromagnetic, non-ionizing radiation (also sometimes shown as nnEMR) is a horse of a different color, as is now being demonstrated via many credible scientists and entities studying this subject, who continue to discover and uncover the multitude of harms being wrought upon us by our love affair with all things wireless…..but you still will not get the truth from Big Industry on this topic…..see for yourself, below, the real and independent science being done in recent and not so recent years, that must struggle to receive the attention it deserves against the monied interests and captured agencies of Big Telecom in this country (the good ole USA!!!)…..
(As a somewhat caustic but highly related aside)…….
Copied below (with any misspellings) is a slightly edited version of what one current Longmont City Councilmember had to say to a resident, in an online forum, about the real science being presented to our City Council and Sustainability Advisory Board, including 11,000 pages of evidence in the EHT et al vs. FCC suit repeatedly referenced by multiple public commenters in the past nearly four years, and we daresay, denial is not just a river in Egypt – names withheld, for the moment, but this is a true and verifiable account:
Resident – "(LCCouncilperson's name) denies the 11,000 pages of science presented in a Supreme Court lawsuit against the FCC regarding non-ionizing wireless radiation."
Councilperson to resident – "Junk science. That lawsuit is all you got. First you guys made 11,000 pages of public commentary, all bunk. Then sued. When the agency failed to read the bunk the judge ruled that they should have."
Same thread, resident to councilperson –  "Did you mention how the city no where in its literature to the public mentioned if you experience any changes in your health such as headaches, insomnia, tinnitus, anxiety, irregular heart beats and so on…this can be a side effect from your metere. Please call the city immediately to have it removed. If people knew, more would say no."
Councilperson to resident – "City explored those allegations in detail. Even called your charlatans in to testify. They all had a financial interest in junk science and there's no causal link. So no, city doesn't put unproven conspiracy theories on its website."
Okay, end of thread. I ask, what does this say about (at very least) this one particular councilperson? You can judge for yourself, but in our opinion, this displays a rather callous and name-calling attitude of "y'all are just a bunch of conspiracy theorists, nutters, and charlatans" and "my mind's made up, don't confuse me with the facts."
We beg, again, to…..respectfully….disagree. We think this city, and we the residents, deserve better than this.
The Real Science – Hear it from the Real Experts, Below:
Independent Science on the Effects of Wireless Radiation
on Human Health and the Environment
There are more than one thousand scientific studies conducted by independent researchers from around the world concerning the biological effects of Radiofrequency (RF radiation). You can read some of the most recent at the above link.
The Science Explained
An undeniable risk to human health.
Studies include the following subject categories:
Effects on Fetuses
Effects on Children and Adolescents
Brain Tumors
Parotid Gland Tumors
Other Malignancies
DNA Damage and Gene Expression Changes
Neurological/Cognitive Effects
Cardiovascular Effects
Male Fertility
Electromagnetic Sensitivity
Implanted Medical Devices
5G Effects
Wildlife and Plants
Plus reports, articles, and reviews
Link to Environmental Health Trust and 11,000 pages of evidentiary science submitted into the EHT/CHD v. FCC lawsuit
where the Environmental Health Trust and Children's Health Defense convinced the second highest court in the land that the FCC had not adequately updated its antiquated radio frequency guidelines, therefore calling into question the safety of all wireless devices and infrastructure. To date, we the people are still awaiting updated RF guidelines from the FCC; it has been nearly two years since that case was decided, on Friday the 13th of August, 2021, an unlucky day for the FCC but a lucky day (prospectively) for all life.
* * * * * * * *
"Smart meters are the worst invention that we've followed in the last two years, there's absolutely devastating consequences that I will share with you, the only development that parallels exponential increase that we've observed in neurological disease is the exponential increase in exposure to manmade electromagnetic fields…."   Dr. Dietrich Klinghardt MD, PhD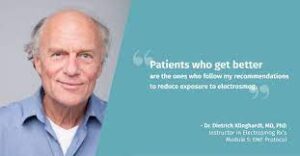 Dr. Klinghardt has been speaking out on EMF harms for decades, he is a true medical expert on chronic illness and how to resolve it. In this video, he speaks of our exposure to smart meters and EMR (electromagnetic and wireless radiation) as the "Health Crisis of Our Time……."
* * * * * * * *
Dr. Magda Havas B. Sc., PhD, Canadian researcher and world renowned expert on EMF educates us at this link on dirty electricity, multiple sclerosis, and electrosensitivity (ES/EMS/EHS, all the same animal)…..from the above page you can download the pdf "Electromagnetic Hypersensitivity: Biological Effects of Dirty Electricity with Emphasis on Diabetes and Multiple Sclerosis." You MUST have this information if you love a diabetic, or you are one!!!!
"Symptoms for multiple sclerosis (MS) and electrohypersensitivity (EHS) are similar and may lead to an initial misdiagnosis of this illness. Also, some people with MS may also have EHS. If this is the case, improved electromagnetic hygiene in the home and work environment may alleviate some of the neurological symptoms as shown in this video."
* * * * * * * *
Graphic by Floris Freshman, used by kind permission.
A June 14, 2023 interview with Susan Foster by the Epoch Times:
"Your Cellphone and Other EMF Devices May Be Harming Your Heart"
Electrical equipment and high-tech devices are everywhere, and while they may make life easier, research finds they can harm your heart by creating electromagnetic fields (EMF) in the radio frequency range.
Many people don't realize their cardiac symptoms could be the result of EMF. Still, research continues to find a correlation between the debilitating illnesses that some people suffer from and the mass amount of electromagnetic "smog" currently clogging the atmosphere.
Continue reading the article…..
* * * * * * * *
LIVE BLOOD ANALYSIS video excerpt – blood samples taken from before and after exposures to a smart meter, excerpted from Take Back Your Power award-winning documentary on smart meters…..
* * * * * * * * * * * * * * * * * * *
LONGMONT4SAFETECH IS COLLECTING MONETARY PLEDGES TO STOP THE SMART METERS. PLEASE PLEDGE TODAY!!!!
CURRENT PLEDGE DRIVE:  OUR PLEDGE AMOUNT IS NOW A BIT OVER OUR INITIAL $10K GOAL! BUT WE'RE NOT STOPPING THERE – PLEASE HELP US STOP SMART METERS IN LONGMONT BY PLEDGING YOUR MONETARY SUPPORT.
ONCE ACTUALIZED, YOUR PLEDGES ARE TAX DEDUCTIBLE THROUGH OUR PARTNERED NON-PROFIT. WE ARE NOW IN OUR SECOND PHASE OF THIS PLEDGE DRIVE, AND IF YOU ARE SOMEONE WHO IS ABLE TO PLEDGE A LARGER AMOUNT, SUCH AS IN THE THOUSANDS RATHER THAN HUNDREDS OF DOLLARS, ALL THE BETTER !!!!!
EVERY AMOUNT PLEDGED, LARGE OR SMALL, IS COMPLETELY APPRECIATED AND HELPS US TO ACQUIRE THE LEGAL ACTION WE NEED TO STOP THESE METERS COMING TO LONGMONT……

Contact:  longmont4safetech@gmail.com today with your pledge!!!
Thank you.