5G

5G means fifth generation. The fifth generation of the cellular network our mobile phones use to communicate, which began in the 1980s with 1G.  Each generation has brought us more functionality and faster speeds, and from just being able to talk on our phones to being able to talk, text, browse the Internet, download Hollywood movies in a matter of seconds, and more.
5th generation wireless "5G" incorporates broadcast frequencies right across the radio frequency spectrum, and each 5G cellphone carrier (Verizon, ATT, T-Mobile) is different. People often make the mistake of equating 5G with millimeter waves exclusively; this is an inaccurate understanding as 5th generation wireless also incorporates the lower generations (the ones that are still supported) and their lower broadcast frequencies. (See chart further down the page.)
All Saints Episcopal Church hides a cell tower behind a cross, Loveland, CO.
(What would Jesus think of these money changers?)
Insofar as specifically identifying 5G antennas, good luck! Some look similar to current 3G and 4G antennas and use existing cellphone towers and other infrastructure. The newer antennas, however, and especially those designed for what is known as "small cell densification" in cities and neighborhoods, look quite different from those we have become used to, often consisting of a relatively thin pole that widens at the top, almost like a Q-tip! They can be stand-alone cell towers (see photo, above right, taken in the UK), as can be seen on Iris Street near Broadway in Boulder, CO. Others can be built into or attached to the top of traffic light poles.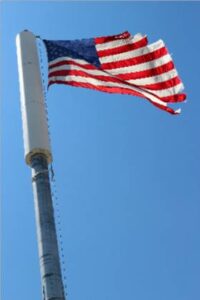 Some have replaced flag poles (Old Glory in disrespect and misuse, in our opinion) or "regular" cell towers have been disguised as church towers (another abomination – where would Jesus place a cellular antenna, surely not within fifty feet of his congregation?!).
Others are to be found in neighborhoods, placed at approximately three to five-hundred feet intervals along a residential street ("small cells"). This latter description (or scheme) is known as "small-cell densification" and the antennas are placed like this due to the inherent short distances that 5G millimeter waves allegedly travel. Only one problem among others, as we understand it, is that these 5G antennas broadcast both 4G and 5G frequencies, making the cell phone tower that used to be one or more miles from your home if you're lucky (and relatively inert insofar as harming you,  due to distance) into a potential monster that could dwell directly outside your or your child's bedroom window! And guess what, unless you are very lucky, you are unlikely to have any say in the matter, by law (and threatening to become very much worse unless stopped, see home page for actions items)!!!!
The below chart gives you some idea of the evolution from 4G to 5G infrastructure if you study it for a few minutes as we did, you may begin to be able to decode what you are currently seeing in much of your environment, as more and more of this cellular architecture crops up on the landscape; however, it does not depict a "small cell" such as described and shown above, which at least in theory is capable of broadcasting in the (5G) millimeter wave bandwidth (approximately 30 GHz to 300 GHz, for all us "electro-RF-geeks" and about which so many people, including scientists, doctors and researchers have expressed their very real and scientifically credible opposition and concerns).
Some 5G technology is able to focus concentrated beams of microwave energy to multiple phones in range of a given small cell 5G antenna. This process is known as beam-forming, meaning this concentrated beam formed by multiple antennas focusing in the same direction simultaneously can pass through things, including living things, that happen to be in the way of the beam, including you, the user. Imagine Boulder, Colorado's famous Pearl Street Mall replete with small cell antennas that beam-form in multiple directions simultaneously, servicing the many customers glued to YouTube, Facebook, Rumble, and so on, who demand (or are brainwashed to want) faster, quicker, lightning speed downloads.
Well, guess what? We haven't been to the Pearl St. Mall in a while, but within the last year there were, indeed, small cells popping up on Pearl St. just east of the mall, then going further east. Whether or not they were activated yet with the 5G mmWave frequencies, you would only know if  a) you bought a rather expensive 5G measuring RF meter and measured  b) you had a 5G phone and stood next to one, and were able to download Gone With The Wind in five seconds or less  c) you are electrosensitive and immediately feel the "assault" by 5G and/or the 4G broadcasting alongside it  d) you find yourself living or working next to a small cell and then experience a heart attack, stroke, neurological symptoms, tinnitus, headaches, or you simply….drop dead!!!
What could go wrong?
We think you catch our drift when we say what could go wrong as you can undoubtedly see in your mind's eye, a picture of a disaster in the making. Not to mention, because millimeter waves have difficulty penetrating through, say, a leafy tree standing between you and the small cell antenna, trees have been and are being cut down in some places en masse, to clear the impediment to this new technology! This doesn't make a lot of sense (or…common sense!) when you think about it, does it?
We mean this sincerely when we say "good luck to us all" as we traverse the changing landscape and collectively navigate the tumultuous waters of these very strange and intense times.
Further Resources:
5G Radiation Webinar – mmWave and EMF educational series; priceless information, 3.5 hrs. in length, Magda Havas, Orem Miller, Lloyd Burrell etc.
5G and energy consumption…….5G will increase energy consumption…..white paper from Environmental Health Trust.
The Terrifying Potential of the 5G Network – 2019 article from the New Yorker
Cartoon by Florie Freshman, used by kind permission.
* * * * * * * * * * * * * * * * * * *
LONGMONT4SAFETECH IS COLLECTING MONETARY PLEDGES TO STOP THE SMART METERS. PLEASE PLEDGE TODAY!!!!
CURRENT PLEDGE DRIVE:  OUR PLEDGE AMOUNT IS NOW A BIT OVER OUR INITIAL $10K GOAL! BUT WE'RE NOT STOPPING THERE – PLEASE HELP US STOP SMART METERS IN LONGMONT BY PLEDGING YOUR MONETARY SUPPORT TODAY.
ONCE ACTUALIZED, YOUR PLEDGES ARE TAX DEDUCTIBLE THROUGH OUR PARTNERED NON-PROFIT. WE ARE NOW IN OUR SECOND PHASE OF THIS PLEDGE DRIVE, AND IF YOU ARE SOMEONE WHO IS ABLE TO PLEDGE A LARGER AMOUNT, SUCH AS IN THE THOUSANDS RATHER THAN HUNDREDS OF DOLLARS, ALL THE BETTER !!!!!
EVERY AMOUNT PLEDGED, LARGE OR SMALL, IS COMPLETELY APPRECIATED AND HELPS US TO ACQUIRE THE LEGAL ACTION WE NEED TO STOP THESE METERS COMING TO LONGMONT……

Contact:  longmont4safetech@gmail.com today with your pledge!!!
Thank you.